Viking market Jork at the marina Neuenschleuse, 21635 Jork
As in previous years, the Vikings will land in Jork again this year.
Several hundred Vikings from many parts of Europe will camp in Jork from May 18th to 21st and, like in the past, offer an extraordinary spectacle.
The Jork Viking Market will take place from May 18th to 21st, 2023. Over 400 Viking traders, craftsmen and fighters from all over Europe pitch their tents around a ring castle made of wood, which was specially built for the Viking market in Jork Neuenschleuse. The visitor can experience how people lived in the period from the 7th to the 11th century and immerse themselves in this special atmosphere.
Experience exciting Viking battles

 
 
... or partly, in its own way, almost forgotten craft like

rope makers,
To dye,
manufacture of turning shoes,
Demonstration and explanation of old sewing techniques,
Weave,
to spin wool into yarn,
general wool processing,

bow and arrow making
make chain mail,
tin casting,
needle binding,
woodwork,
wood carvings,
Offer of individual silver and bronze jewelry

leather processing,
burn runes,
Glass bead production in charcoal fire,
To sharp a knife,
comb weaving,
amber processing,
Forge

Of course, you can also buy the manufactured goods at most of the stands
 
 
 
and much more
Or hire a rower on a real Viking ship and go on a "big voyage"

This year we will be supported musically by the group Krauka from Denmark, who will perform several times on all market days.
The event falconry is our guest on Saturday and Sunday and will present their birds of prey in 2 shows each. The shows are expected to take place at 12:00 p.m. and 3:00 p.m. (subject to change).

On Friday and Saturday, shortly after sunset, Knud presents us with one of his grandiose fire shows
For whiskey lovers we are now organizing a Viking whiskey tasting for the second time in a row. Start is Friday, May 19, 2023 at 7:00 p.m.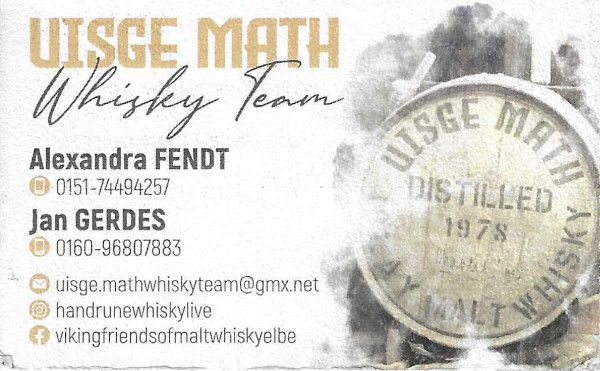 Attention:
Places are strictly limited. Prior registration is urgently and in good time required.

Registrations can only be accepted directly from the Uisge-Math Whiskey Team.
opening hours:
Thursday
Friday
Saturday
Sunday
18.05.
19.05.
20.05.
21.05.

10:00 Uhr - 20:00 Uhr
13:00 Uhr - 21:00 Uhr
10:00 Uhr - 22:00 Uhr
10:00 Uhr - 18:00 Uhr
entrance fees

:

Thursday + Friday
Children up to sword measure (6 years)
Children from sword measure (7 - 17 years)
Adult
family card
Severely disabled/pensioners*           

Saturday + Sunday
Children up to sword measure (6 years)
Children from sword measure (7 - 17 years)
Adult
family card
Severely disabled/pensioners*                      





:
:
:
:
:


:
:
:
:
:

 




free entry
4,00 €
8,00 €
18,00 €
5,00 €


free entry
5,00 €
 9,00 €
20,00 €
5,00 €

Since we only have very limited mobile phone reception on the market premises, electronic payment (EC, credit card, etc.) is unfortunately not possible in the checkout area.

*upon presentation of the pension or disability card.




Accompanying person for the disabled free